Hi everyone & welcome back to my humble space.

For as long as I can remember, I've always been intrigued by true crime stories.

With all murders, most times, there isn't much justification to the act itself but I would often wonder, what is the thought process of a criminal/murderer that has led them to committing such heinous act? Was the killing premeditated or was it just a heat in the moment kind of occurrence? If they could do it all over again, would they have resorted to the exact same ending?

And the list of questions, continue.

One of the cases that I read about that I can still remember vividly is the gruesome tale of Mona Fandey. It's something I won't forget because firstly, it was among Malaysia's horrific crimes and secondly, it was because it was the first case that I've encountered where the murderer was a woman.
Back Story.
Her real name was Maznah Ismail and at a very young age, she has always had a passion for dancing & singing. Maznah Ismail married Mohamad Nor Affandi Abdul Rahman who promised to fund her dream in becoming Malaysia's biggest pop star. She later on went by her stage name Mona Fandey, and in 1987, she released an album entitled Diana and known for the song Ku Nyanyikan Lagu Ini. Unfortunately, after a few years,Mona Fandey's career did not take off as planned and that was when she decided to opt for a career change.

Career Transition.

Mona Fandey & her husband-Affandi had then decided to venture into something more lucrative, which was witchcraft. The then 37 year old singer turned bomoh(shaman) found great success and her clienteles were elite, high profile figures as well as senior politicians as she claimed. They would pay her a huge amount of money in return, Mona Fandey would offer her black magic services.
In 1993, a Pahang assemblyman named Mazlan Idris approached the duo hoping to boost his political career. Rumor has it he was eyeing on the Chief Minister position at that time. Claiming she had similarly helped other UMNO members, Mona Fandey offered him a so-called magic talisman consisting of a tongkat and a songkok supposedly owned by former Indonesian President- Sukarno. Mona Fandey promised Mazlan Idris that he would be invincible when in possession of these items and demanded RM2.5 million in return. Mazlan proceeded to pay a deposit of RM500,000 and surrendered 10 land titles as guarantee of the remaining payment. Shortly after, Mona invited Mazlan to her house in Raub, Pahang to conduct a mandi bunga(flower bath) ritual to enhance him with the powers she promised. Affandi her husband and Juraimi her assistant were also present.
Mazlan laid on the floor face-up with his eyes closed while Mona reportedly placed flowers all over his body and seconds later, Juraimi-the assistant swung an axe thrice on the politician's neck, severing his head.
If you think it ends there, they were just getting started. The trio partially skinned Mazlan's body and dismembered it into 18 parts and buried the parts in a storeroom near Mona's home. They were so casual about the entire ordeal that they went on a shopping spree soon after and Mona reportedly bought a Mercedes Benz and even got herself a face lift with the money received from Mazlan.
The trio almost got away with murder until the assistant-Juraimi, was picked up by the police over an unrelated drug offense. Juraimi confessed to the police, likely to be high on drugs, that he had been involved in Mazlan's murder.
All three were arrested for the murder of Mazlan Idris and in 1995 they were charged with murder under Section 302 of the Malaysian penal code, which comes with a mandatory death sentence. Upon receiving her sentence, Mona said, "I am happy and thank you to all Malaysians". She was escorted out of court back to prison and as always with the biggest smile on her face. The date of the hangings were set for Friday, 2 November 2001 at the Kajang Prison.
Throughout the eight years from her arrest to her death, Mona showed zero remorse towards her actions and was always seen in a cheerful mood when she was brought out to court by prison officials. It was also rumoured that paranormal occurrences took place in the surroundings of Mona's jail cell and claims that Mona often invoked her supernatural powers to briefly leave the prison for a drink but returned before dawn. However, this was denied by the prison officer.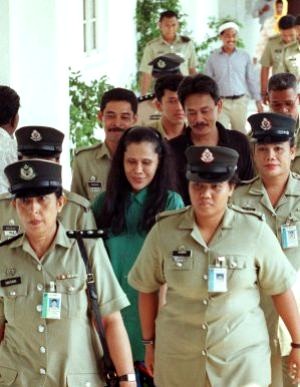 The day before the execution took place, both Mona and Affandi were allowed to meet their family members to bid farewell. They were also given a last meal of KFC and on Friday at 5.59am, Mona, Affandi & Juraimi were hanged to death. Mona's final words right before she was hanged was 'aku takkan mati'/ I will never die. I supposed Mona was right in a way, as her tale still lives on to this day even after years the entire horrifying ordeal has passed.

Isn't that the crazy thing about truth. You can try and bury it and hide it as much as you can but whatever you do it the dark, will always finds its way back to light.

Take care & stay safe.

I'll see you in my next one.